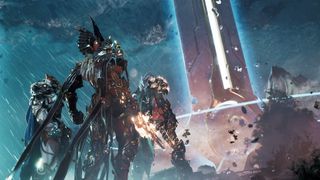 (Image credit: Gearbox Publishing)

Godfall, the forthcoming fantasy «looter-slasher» from Counterplay Games and Gearbox, will be playable in co-op or solo—but either way you'll need to be online. This was confirmed by the official Twitter account, who said, «Godfall is not a service game, but does require an internet connection to play.»
Presumably it's to prevent cheating, so that when you jump into a game with other players you know they haven't done a Diablo 2 and given themselves max stats and all the best items. Keeping character progression and loot drops server-side would prevent that from happening. Although since Godfall won't have PvP, what's the harm?
Godfall will be out on November 12, exclusive to the Epic Games Store.
Thanks, VG247.
Jody is that guy who will try to convince you to play some indie game you've never heard of with a name like Extreme Meatpunks Forever. He is also on a doomed quest to play every Warhammer game.